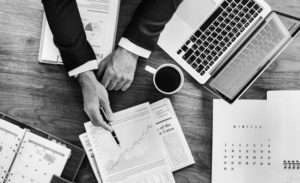 It's certainly been a busy time at the RBL Associates offices. As the rest of the team will certainly agree, our workload has increased as more firms turn to us to source high performing sales, pre-sales engineers and consultants for their business. And with our expertise spanning across the B2B tech sector: software sales, marketing, HR and recruitment, we're finding our insight in high demand – with downloads of our eBook proving incredibly popular at the moment.
As this demand grows, so too does our need for top talent able to deliver the best results for our clients and candidates alike. In order to continue achieving the high standards of delivery that the RBLA brand has become synonymous with, we've welcomed Dylan Morris to the team as Executive Researcher.
Research: a valuable tool
In order to support our company growth, we're investing in key areas of the business that add the most value: in this case our research function. Approaching and engaging candidates who are the closest potential match to a search means being able to identify key skills and knowledge which combined with the new GDPR legislation is not only vital, but also increasingly difficult.
For our candidates being able to bring the right career opportunities in both sales and technical pre-sales roles improves their experience. For our clients increasing our candidate research team means we can shorten our clients' time to hire.
Our research approach also enables us to carry out long-range talent scouting, meaning that we are always seeking out and engaging with top talent so that we can fill a vacancy much quicker. Having Dylan on board to bolster our research division will certainly reinforce our valuable search capabilities.
Investing in the future
Our commitment to expanding our research function truly demonstrates that we go above and beyond in the executive search and selection process. We provide tech sales organisations with the right candidates to build out their EMEA teams, from leaders, to individual contributors –both direct and channels  – to marketing and inside sales teams. We search for and find people with the right skills, the right knowledge and the right cultural fit with our client's existing teams. Our focus on really getting to know both the true needs of the client and the merits of the individual candidates mean we save hiring manager's time and deliver good experiences to our candidates with a pro-active approach of well matched career opportunities.
Looking for your next sales or marketing team hires? Speak to us today