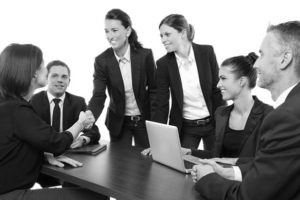 In part 1, we looked at the difficulties for vendors in building a successful reseller channel. Now let's have a look at how vendors can work together with resellers to make sure their partnership starts as they mean to go on.
Once you've signed a reseller agreement, there are four key components that need to be in place before you launch to make your joint campaign a success:
1.Establish peer to peer connections
Obviously, you'll already have contacts in touch with one another at the executive level of both companies, but these relationships need to be replicated down to the marketing, sales and technical teams. Taking the time to establish these relationships prior to the launch means that a reseller already has support from trained subject matter experts in place before sales start, as well as emphasising the importance of this new partnership on both sides.
2.Celebrate quick wins
Before your launch campaign commences, taking some time to identify potential quick wins to pursue immediately will help get you off to a flying start. Once customer orders have been won, whatever the value initially, they should be publicised and celebrated jointly by the channel and vendor, both to recognise early success but also to keep people focussed on potential future wins. This broadcasting and recognising of success needs to be repeated to maintain sales momentum, ideally with a monthly update on progress.
3.Start with co-selling
Best practice in a channel launch is for sales and pre-sales technical staff from both the vendor and the reseller to collaborate in early sales. This gives the channel employees support and confidence in real life situations, rather than simply passing on theoretical knowledge, which will enable them to do a better job in the future. It also helps to create the trust and respect between the two teams necessary for a successful business relationship.
4.Make it easy
One of the best ways to dramatically increase the chances of a successful long term relationship is to make it as easy and painless as possible for a reseller to do business with you.
For a start, the vendor needs to create a small set of clear and concise sales and technical collateral for the reseller, ideally on an area of the vendor's website but using the reseller's branding. Giving a reseller instant online access to the collateral and tools they need will make the sales process as simple as possible; it is simply not reasonable to expect the channel's staff to have the time or patience to wade through masses of vendor collateral to find the information they need in a hurry. Taking the time to make this collateral as clear and simple as possible can often result in better and more effective collateral for the vendor's own sales force to use.
Other ways in which vendors can make it easier for their resellers to succeed include making it easy to register deals, with joint tracking of any opportunities and vendor approval for special terms given swiftly and consistently. The order process should be made as straightforward and unambiguous as possible, with product codes or dependencies flagged up for accuracy. Finally, there need to be set service level agreements in place and clear procedures for escalations so that issues can be addressed efficiently and effectively by the right people.
An example of how this can work
Back when I was VP EMEA at a vendor, I was lucky enough to have a brilliant channels team. They devised a really effective model, including a 'self-sufficiency' programme, that enabled and certified channels to sell, test, deploy and support our solution. Some of our resellers landed software deals with values in excess of seven figures, with an additional pull-through benefits including substantial service revenues. Others won deals at run-rate values, but which made their customer base "sticky" and loyal using the benefits of our solution.
So successful and innovative vendor-reseller partnerships do exist, it just needs a vendor to really understand the channel's needs and to spend time ensuring the reseller has all the support they need to really capitalise on the potential of their solution.
So to answer the question I asked at the beginning of part 1; what have resellers ever done for us? The answer could be – grew our business by 40%!

Take a look at our website to find out more about our accurate selection services
Or check out our blog to learn more about the issues facing sales leaders