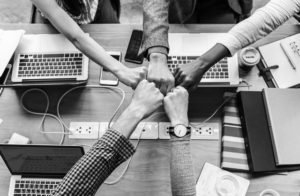 I've focused a lot on identifying, securing and managing large value deals in my recent Insight blogs in order to help sales leaders set themselves and their staff up for the greatest possible success. While on-going training is, of course, crucial for existing teams in order to ensure they have the required attributes to drive those bigger deals, assessing for these abilities is also key at the recruitment stage.
Based on my years of experience in the field, there are a number of key skills that leaders need to ensure new salespeople and pre-sales technical consultants have:
Resilience and persistence: The sales cycle of large value deals is lengthy and complex. With a need to consistently address and overcome challenges or set-backs, the ability to bounce-back and continue with the same levels of energy, drive and optimism is critical.
Foresight: In order to anticipate and avoid any possible issues, it's important to have team members that are able to foresee next steps and assess any hurdles. (My previous post on the three ways to make account reviews work for you delves deeper into how to develop this foresight and sets a benchmark for what to look for when hiring).
Collaboration: Bigger accounts require more input from across the team. For a sales person this can sometimes mean working with those they have no authority over. As such, an individual's ability to not only collaborate with peers, but also influence others to gain the required backing, approval and resources is a key attribute to assess.
Transparency: For a sales team leader, trusting the team is vital. I've learnt from my time in sales that you need to feel comfortable that your team will raise any challenges or flag critically important risks to a deal early enough to take action. Sales people who can demonstrate they are open and able to communicate, especially threats and risks to a deal, are what is needed.
Coachability & Learning: An essential characteristic in a sales person is the ability to accept, even seek out, feedback. In a large deal sales environment the complexity of such deals means the salesperson alone cannot see all aspects of the sale.  A constant mode of learning is important to ensure the sales person is open to new techniques and information that can help better engage with customers.
Composed and analytical: When faced with a challenge, a good sales professional will be able to remain cool, calm and collected in order to best analyse the situation and help keep the collective team united and on track. Forensic analysis of customer communications is essential, separating facts from opinions and verifying information from one customer contact with another.
Customer-orientated: Of course, any sales professional has the customer at the heart of everything they do. However, beyond this, individuals should focus on developing a deeper knowledge of the customer's business, sector, competition and strategic plans. Taking time to do so will better ensure that the solutions being put forward truly impact the C-Suite's pain point.
Communication: Being able to accurately articulate points, thoughts and actions both verbally and in the written form is a crucial, but easy to over-look, skill.
Knowledge of the solution and USPs: Knowing the details of your solution and understanding the competition well are critical factors. Even the point of anticipating what competitors will say about your own solution.
Business case: Being able to demonstrate the direct business value that your solution delivers to the end user in a clear and concise manner. Large deal sales professionals will be able to give examples of bottom line savings, top-line growth and strategic benefits their solution delivers.
Discipline & detail: Time planning & resource allocation skills are needed by the sales person to ensure that the right people are available at the right time in the sales process. In many regards the salesperson needs to be a project manager with a close attention to all the moving parts in the sales process.
While, of course, the above skills are critical in the development of an efficient sales team, leaders also need to ensure they are demonstrating these attributes themselves and leading by example. Junior professionals will be looking up to the senior team for best practice guidance and by actively displaying a calm, analytical and transparent air, leaders will be setting themselves and the team up for greater success.
What do you feel are the most important skills for a sales professional?