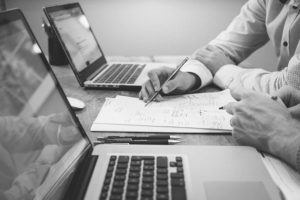 Pre-sales engineers/consultants are an integral part of the technology sales team and their role is constantly evolving. They act as subject matter experts in their field and add value to an organisation by providing expert advice throughout the sales process and thereby influencing a sale. The role can vary considerably from organisation to organisation, most commonly in the depth of technical ability required. In some cases, a pre-sales engineer may also have some post-sales duties, to ensure the successful adoption of the product and encourage further potential sales of upgrades or new products in the future.
At its heart, the role of a pre-sales engineer is to win the technical sale.
In this blog, I'm going to go through what makes a great pre-sales person and the skills they need to succeed.
Technical ability
Obviously, the starting point for a strong pre-sales engineer is a good depth of knowledge gained from a strong technical background (often from a career in development). You need to have a complete mastery of the technology you are selling, but also a good understanding of the business function and industry you're selling to, in order to grasp the context for your product.
Communication skills
Having technical ability is all very well, but just as important for pre-sales engineers is the ability to take complicated products and ideas and present them to a wide variety of audiences. Pre-sales people need to be expert communicators (both written and verbal) and able to make solutions simple and easy to follow. You need to be able to make presentations engaging, focusing on the end benefits for the customer rather than drowning them in detail.
Client facing skills
The best pre-sales engineers are also able to work with people at multiple levels within a customer hierarchy; you could be presenting to C-level one day and conducting proof of concept testing with end users the next. It's important to be aware that the critical decision on whether or not a customer adopts your solution can be influenced by a wide range of stakeholders.
Problem solving skills
A pre-sales expert needs to be able to listen and work with their customers in order to fully understand the problem or gap facing them and make sure they adopt the best possible solution. When initially meeting with the customer, you need to be able to listen to their issues, work out which are the most important problems that need addressing immediately and filter out the rest.
Focussing on immediate impact to the business and ROI in this way gives your contacts a very strong technical case for adopting your solution to present to senior decision makers.
Ability to work as a team
Successful pre-sales people work to build close relationships within their company, rather than operating as silos. The market sector information a pre-sales engineer gains in their exposure to customers is extremely valuable to their own product management department and should be fed back as soon as possible.
The deep knowledge you have of both your product and your customers often means that you will also be required to contribute to RFP documentation or train up sales reps. The best pre-sales people are always willing to help out their colleagues, share ideas and find new ways of working.
I am always looking for pre-sales engineers who are passionate about technology. A good pre-sales person will speak freely and easily with few prompts from me about their knowledge and skills, and the really good ones will stop and check that everything has been understood. They will demonstrate a hunger for learning and an unwillingness to be left behind in their chosen technology.

Top quality pre-sales staff are in demand right now, so if you're a talented pre-sales professional, why not get in touch to discuss your potential career opportunities on +44 (0) 203 713 9297?
Or check out our blog to learn more about the issues facing those working in pre-sales