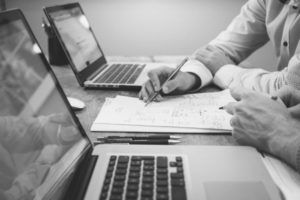 Identifying "ideal" prospective customers is the vital first step to ensure that sales effort and resource is targeted correctly, but what are the signs and indicators to look for?
One of the most significant signs to look for are those organisations that are enduring severe disruption in their businesses – disruption that causes Executive or C level visibility.
What is disruption?
Essentially disruption creates such risk and threat or opportunity at C level, that vendors who can prove their solution answers the customer's needs, will be on track to a large value deal. By contrast, if you do not correctly define that specific customer's disruption or it proves not to be a serious as you claim or you do not prove how your solution uniquely solves the disruption, the sale may not happen. Alternatively, the sale might end up only being a small value despite, a huge investment of sales time and resource.
Catalysts for large value sales
Disruption does seem to be the word of the moment. In fact in their recent podcast, McKinsey talks about how organisations need to navigate disruption in the digital age – and how they need to start rethinking timescales and instilling urgency into the development of new systems: "When you're thinking about engaging into or starting your transformation and that end-to-end journey, I think also the pace at which this will happen will be completely different from the one that we are used to. We are no longer talking about months of development to get a new solution out there and testing in the market. We are talking about weeks."
Clearly then, severe disruption can serve as catalyst for a large value sale – and every sector is affected, here are three examples:
Mobile Phone Operators
Not that long ago, it was common for mobile phone companies in Europe to be charging business travellers monthly phone bills of £800 to £1,000, for international calls and texts; today free calls and SMS messages with bundled data browsing cost 10 times less per month. In this case, aggressive regulatory activity by the European Authorities started the disruption and now competition has become the driver. We can see intense pressure on the operators resulting from this very dramatic reduction in tariffs and their urgent need for alternative sources of income. The fixed line operators went through a similar disruption in the late 90s when the income from phone calls started to drop and they were forced to find new sources of income from broadband and other new services.
Oil Companies
In 2013, when the price of oil was $120 per barrel and forecast to rise higher, no one predicted that two years later, the price would reduce by a factor of four, down to $30 per barrel. The disruption caused to the oil companies, tied to long-term investment cycles, was both immediate and severe. Any solutions with a business case that could dramatically lower operating costs would clearly move to the top of the company's procurement priorities in this sector as would those that supported a diversification of products helping them bring new products to market
Automotive Companies
The Automotive sector is undergoing equally disruptive pressures. First the dramatic increase in profits of a car from the electronics vs. the mechanical parts has shifted the focus of research and possibly the dominance of the older manufacturers. Electronics for the automotive sector including driverless car technology created in California could shift the geo-centre of where profits are generated. Additionally, the entrance of Tesla, a brand-new company, has overturned the accepted wisdom that only manufacturers with decades of experience can compete.
Categories of disruption
Macro level disruption: This category applies to issues affecting an entire industry sector or grouping of organisations. Examples include: a vertical market sector which is subject to new regulatory compliance from a Governmental body, suppliers to one larger organisation that insist all its suppliers reduce their prices substantially or users of a technology that is outdated or no longer meets operational requirements.
Micro level disruption: This category applies to an individual organisation which can arise because of new or unexpected severe competitive pressures or a strategy to enter new markets or deliver new services that their current systems are unable to support. Into this category we can also include the new global companies using technology that are themselves the force for disruption taking share from older existing companies. These companies are using new cloud based IT, often from AWS or using Azure or Google, may even not own or manage any IT, and can act quickly without the constraints of a legacy technology & make large value growth based decisions on technology that will keep them ahead of their competitors.
Persona level disruption: This category applies to disruption being driven by one or more people in an organisation. New C level executives almost always bring their own ideas or are given stretching objectives to achieve both of which usually lead to widespread changes to the organisation they have joined.
Ten signs that a client is experiencing disruption:
Rapid business growth
Steep decline in business
Mergers and acquisitions
Publicly declared strategic objectives for the company
New C level appointments triggering new initiatives
Business transitions, e.g. re-organisations or change programs
Compliance or regulatory issues
Senior executives being involved in specific projects
Transformation and/or digitalisation
New markets they wish to enter (that their current technology does not support)
All of these are clear signals that an organisation is going through a period of 'disruption' or significant change, and will be likely to require new solutions, either to support new growth or reverse declining fortunes. If they are an existing customer, look for ways in which you could cross-sell or up-sell to them. If they are using one of your competitor's solutions, look for customer problems that the competition cannot solve.
One large transaction – or phased over time?
A final thought on disruption, is it of a type that creates the need for widespread adoption of a new technology solution (enterprise wide) in one large value initial transaction or is it driving a phased adoption of new solutions over time? Sales leaders need to assess this point carefully as it will determine the sales resources allocated and the forecasting of the revenue flow from that customer.
We specialise in search, selection & recruitment for high performing sales and pre-sales technical people for tech vendors, both leaders and individual contributors, operating across EMEA. Please contact us to discuss how we can help you expand your sales team.
This article is an extract from our new ebook. To request your free copy of 'Winning the Large Value Customer in 2018 – A Sales Leader's Guide', please click the button below.